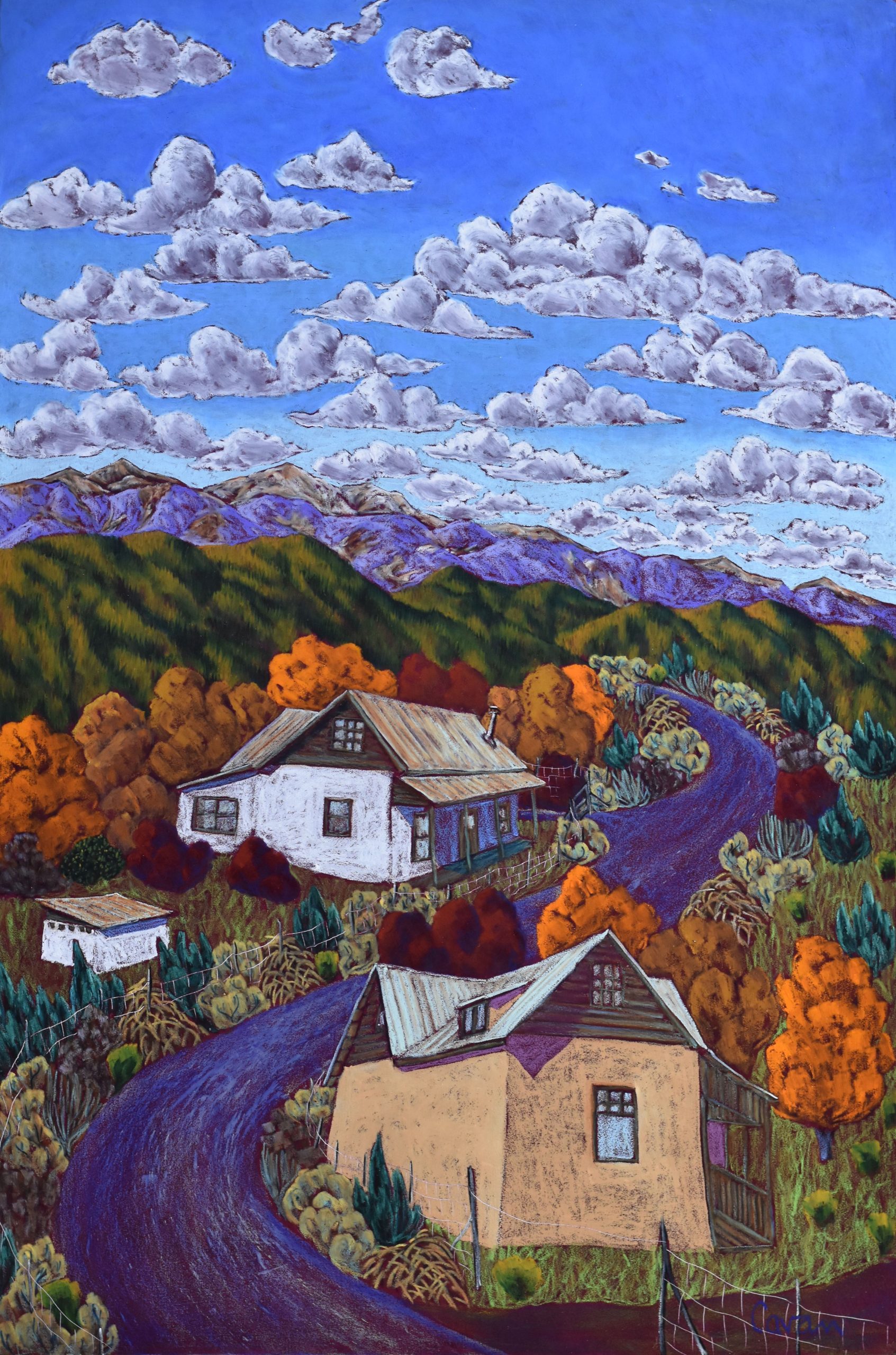 "Taking the Back Roads " by Jennifer Cavan. Size 24″ by 36″.
Art Auction benefits
Music from Angel Fire
Music from Angel Fire has a long tradition of auctioning the piece of art chosen each season.  This year, Jennifer Cavan's "Taking the Back Roads," has been won.  Thank you everyone who participated in the auction and especially to Jennifer Cavan for her creation and generosity.  The winner of the painting will be announced–if they wish to be named–at the August 30 concert.
Visual Art at Music from Angel Fire
Music from Angel Fire has garnered enthusiastic acclaim from music lovers and art aficionados for illustrating the website and print pieces for each season by top visual artists inspired by the beauty and culture of northern New Mexico.  The series, launched by the late Harold Geller when he was the first board president of Music from Angel Fire, has become an integral part of the annual festival.  Through this series, Geller left his imprint on the festival.  With his leadership, a visual artist was selected each year to create a featured work.
For the 2023 season of Music from Angel Fire–the 40th anniversary, here is visual artist Jennifer Cavan.
Jennifer spent much of her childhood and teenage years making art, but pursued a liberal arts education. While earning a degree in history from Brown University, she took art classes on the side. After spending the early part of her adult life in the corporate world in Chicago, she decided to follow her love of art when New Mexico's clarity of light, rich feeling of tradition and strong sense of place pulled here "home." Jennifer and her husband quit their corporate jobs and moved to the mountains of northern New Mexico. Shortly thereafter, she began working with oil pastels. Two dozen years later, they are still her favorite medium. The buttery feel and the directness of applying the pigment without the go-between of a brush continue to fuel her love for these buttery crayon-like sticks.
Of her own work, Jennifer says, "Combining my love of history and culture with my passion for the New Mexico landscape and simple architecture, I create art that reflects the timelessness of that subject matter. I'm fascinated with the state's Spanish Colonial past and the way it merges into and influences the present. Relying on photographs, sketches, and memories of places I have found along the back roads of the American West, I use vibrant, saturated colors, bold compositions and slightly altered perspectives to present, rather than represent, this special place. My "rose colored glasses" interpret the scenes with heightened color. Mine is a contemporary depiction of an ageless place."
Music from Angel Fire is grateful to Jennifer Cavan for her talent and her generosity as a friend, artist, and inspiration.
Other artists have been an integral part of the history of Music from Angel Fire
2023 Jennifer Cavan, "Taking the Back Roads"
2022 Ramona Bagley, "Glory of the Palisades"
2021 Teruko Wilde, "Autumn in Northern New Mexico"
2019 Jennifer Cavan, "Enchanted Valley"
2018 Ed Sandoval, "Sunrise over Angel Fire"
2017 Loretta LaMothe, "Summer's Grande Finale"
2016 Inger Jirby, "Full Moon over Embudo"
2015 Jennifer Cavan, "The Angel's Fire"
2014  Lenny Foster, "Otiñol"
2013 Amado M. Peña, Jr,. "Gouache on Board"
2012 Sylvia Avenius Ford, "Summer in Guadalupita"
2011 Ed Sandoval, "Trail to Trampas"
2010 Jerry Jordan, "Even the Angels Stop to See"
2009 Jennifer Cavan, "Evening Colors"
2008 Walt Gonske, "Change of Season"
2007 Rick Howell, "High in the Sangre de Cristos"
2006 Alyce Frank, "Cumbres Pass"
2005 Don Brackett, "Springtime Comes To Moreno Valley"
2004 William Hook, "Autumn Prelude"
2003 Doug West, "Evening Sonata"
2002 Barbara Zaring, "Valley of the Utes"
2001 Teruko Wilde, "Monte Verde Lake"
2000 Sherrie McGraw, "Low Clouds in the Mountains, Taos Mesa"
1999 Huihan Liu, "Celebration"
1998 Ovannes Berberian, "Evening Mora Valley"
1997 Kevin Macpherson, "Blue and Gold"
1996 William Hook, "Autumn Sonata"
1995 Buffalo Kaplinski, "Strength"
1994 Teruko Wilde, "Southwest Series"
1993 Doug West, "Taos and the Source"
1992 J.K. Lamkin, "Shadow Dreams"
1991 Barbara Zaring, "Fall in the Rio Grande"
1990 Albert Handell, "Santa Fe Hills"
1989 James Harrill, "Midday Shadows, Taos Pueblo"
1988 Doug West, "Edge of Light"
1987 Doug West, "Seeds of Promise"
1986 Doug West, "Taos"
1985 Amado Peña, "Dos Flautas"
1984 Doug West, "Taos Silk"