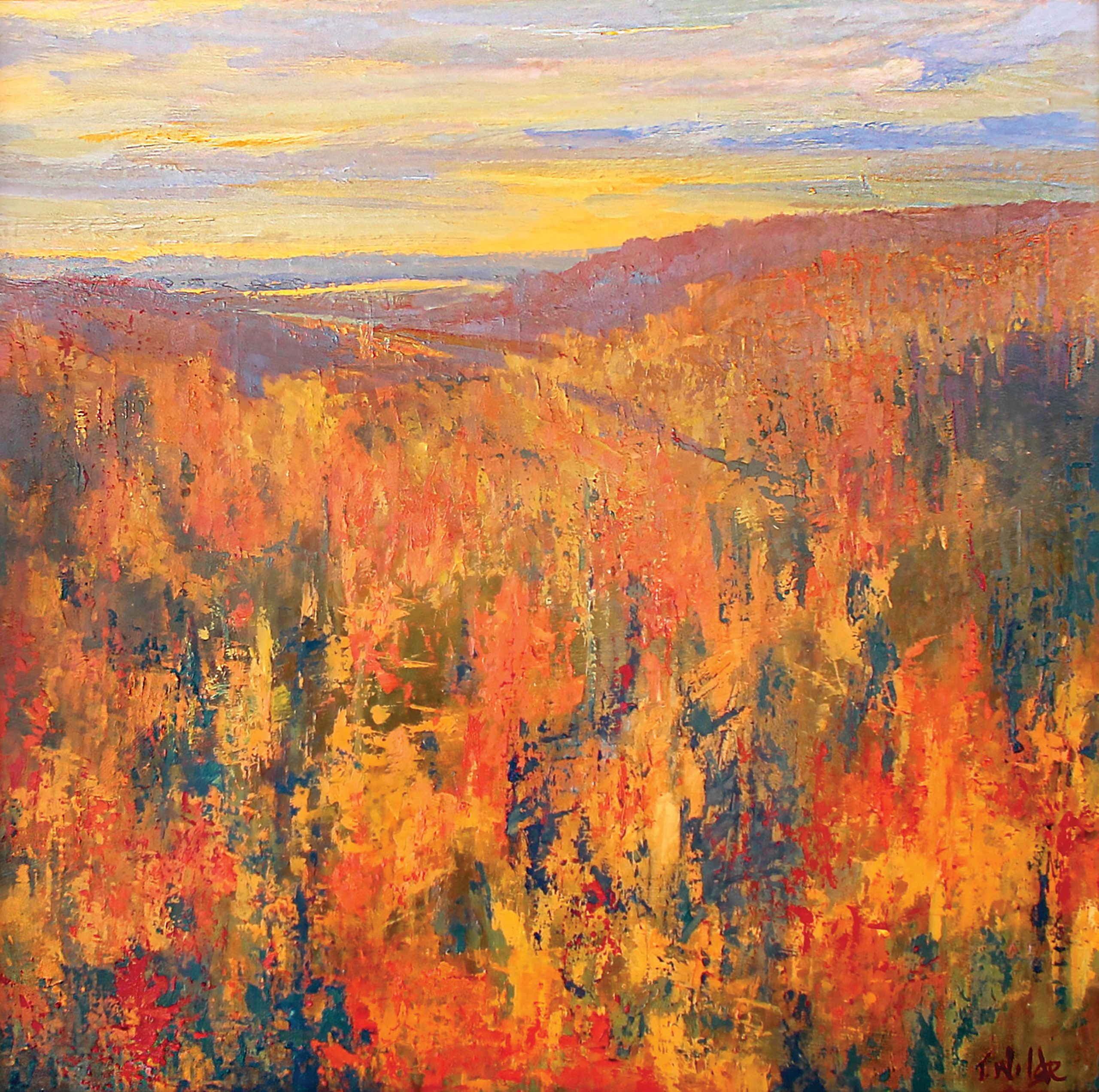 "Autumn in Northern New Mexico," 24 x 24 inches, oil on board (28 x 28 inches with frame)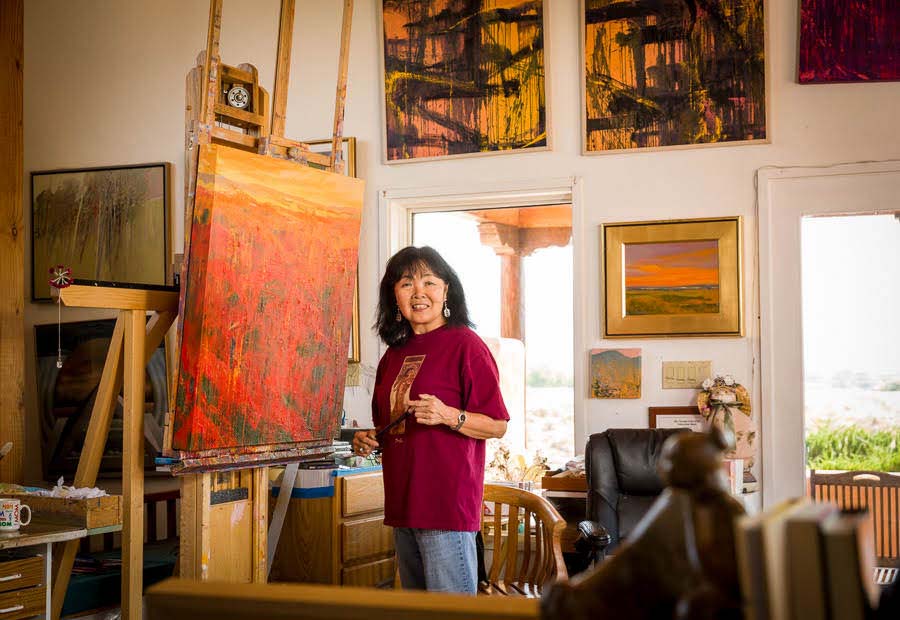 Auction for Teruko Wilde Painting
To benefit Music from Angel Fire's 37th Season, Ms. Teruko Wilde has donated her vision of "Autumn in Northern New Mexico."   The painting is 24 x 24 inches, oil on board, with a framed size of 28 x 28 inches.

You may place a bid via email to development@musicfromangelfire.org.  Be sure you include the amount of your bid, along with your name, email address, and telephone number.
Minimum bid is $1,500 and bid increases must be $100 or more.  Watch this space for daily updates on bidding.  Current bid is $3,000.
Bidding closes midnight, September 3, 2021.
The winning bidder will be announced at the final concert of the season, on September 4, 2021.
The Art Community
Music from Angel Fire has garnered enthusiastic acclaim from music lovers and art aficionados during its 37-year series of collectible posters and program book covers by top visual artists inspired by the beauty and culture of northern New Mexico.  The series, launched by the late Harold Geller when he was the first board president of Music from Angel Fire, has become an integral part of the annual festival.  Through this series and his gallery, Total Arts Gallery, Geller left his imprint on the festival.  With his leadership, a visual artist was selected each year to create a featured work.  
Each year, one visual artist is selected to create the featured work. For 2021, Ms. Teruko Wilde has donated her vision of "Autumn in Northern New Mexico" to Music from Angel Fire.

Teruko Wilde was born in Nagoya, Japan, moving to the United States as a teenager she studied at the University of Cincinnati and Columbus College of Art and Design in Ohio. An award-winning artist, Ms. Wilde has had numerous one-person and group shows. She initially established herself as a prominent pastel and watercolor artist before moving to Taos in 1986.  Expansive southwestern skies, approaching storms, and moody sunsets, describe the colorful oil paintings of Teruko Wilde, which became known as her "Southwest Series" for more than a decade.  Ms. Wilde is combining all of her life experiences into multiple styles and techniques. 
"The artist must be true to herself in the act of creativity," states Wilde, whose work is the culmination of her Japanese heritage and American experiences.  Recreating both emotional as well as physical elements from her surroundings with overlays of color creating texture and intriguing shapes as past and present merge, the viewer is constantly moved by her work.  Ms. Wilde is listed in "Who's Who in America," "Who's Who in the West," "The International Directory of Distinguished Leadership," "The Dictionary of International Biography," "Two Thousand Notable American Women," and "Woman of the Year."
www.terukowilde.com    terukowilde@yahoo.com
Other artists have been an integral part of the history of Music from Angel Fire
2021 Teruko WIlde, "Autumn in Northern New Mexico"
2019 Jennifer Cavan, "Enchanted Valley"
2018 Ed Sandoval, "Sunrise over Angel Fire"
2017 Loretta LaMothe, "Summer's Grande Finale"
2016 Inger Jirby, "Full Moon over Embudo"
2015 Jennifer Cavan, "The Angel's Fire"
2014  Lenny Foster, "Otiñol"
2013 Amado M. Peña, Jr,. "Gouache on Board"
2012 Sylvia Avenius Ford, "Summer in Guadalupita"
2011 Ed Sandoval, "Trail to Trampas"
2010 Jerry Jordan, "Even the Angels Stop to See"
2009 Jennifer Cavan, "Evening Colors"
2008 Walt Gonske, "Change of Season"
2007 Rick Howell, "High in the Sangre de Cristos"
2006 Alyce Frank, "Cumbres Pass"
2005 Don Brackett, "Springtime Comes To Moreno Valley"
2004 William Hook, "Autumn Prelude"
2003 Doug West, "Evening Sonata"
2002 Barbara Zaring, "Valley of the Utes"
2001 Teruko Wilde, "Monte Verde Lake"
2000 Sherrie McGraw, "Low Clouds in the Mountains, Taos Mesa"
1999 Huihan Liu, "Celebration"
1998 Ovannes Berberian, "Evening Mora Valley"
1997 Kevin Macpherson, "Blue and Gold"
1996 William Hook, "Autumn Sonata"
1995 Buffalo Kaplinski, "Strength"
1994 Teruko Wilde, "Southwest Series"
1993 Doug West, "Taos and the Source"
1992 J.K. Lamkin, "Shadow Dreams"
1991 Barbara Zaring, "Fall in the Rio Grande"
1990 Albert Handell, "Santa Fe Hills"
1989 James Harrill, "Midday Shadows, Taos Pueblo"
1988 Doug West, "Edge of Light"
1987 Doug West, "Seeds of Promise"
1986 Doug West, "Taos"
1985 Amado Peña, "Dos Flautas"
1984 Doug West, "Taos Silk"