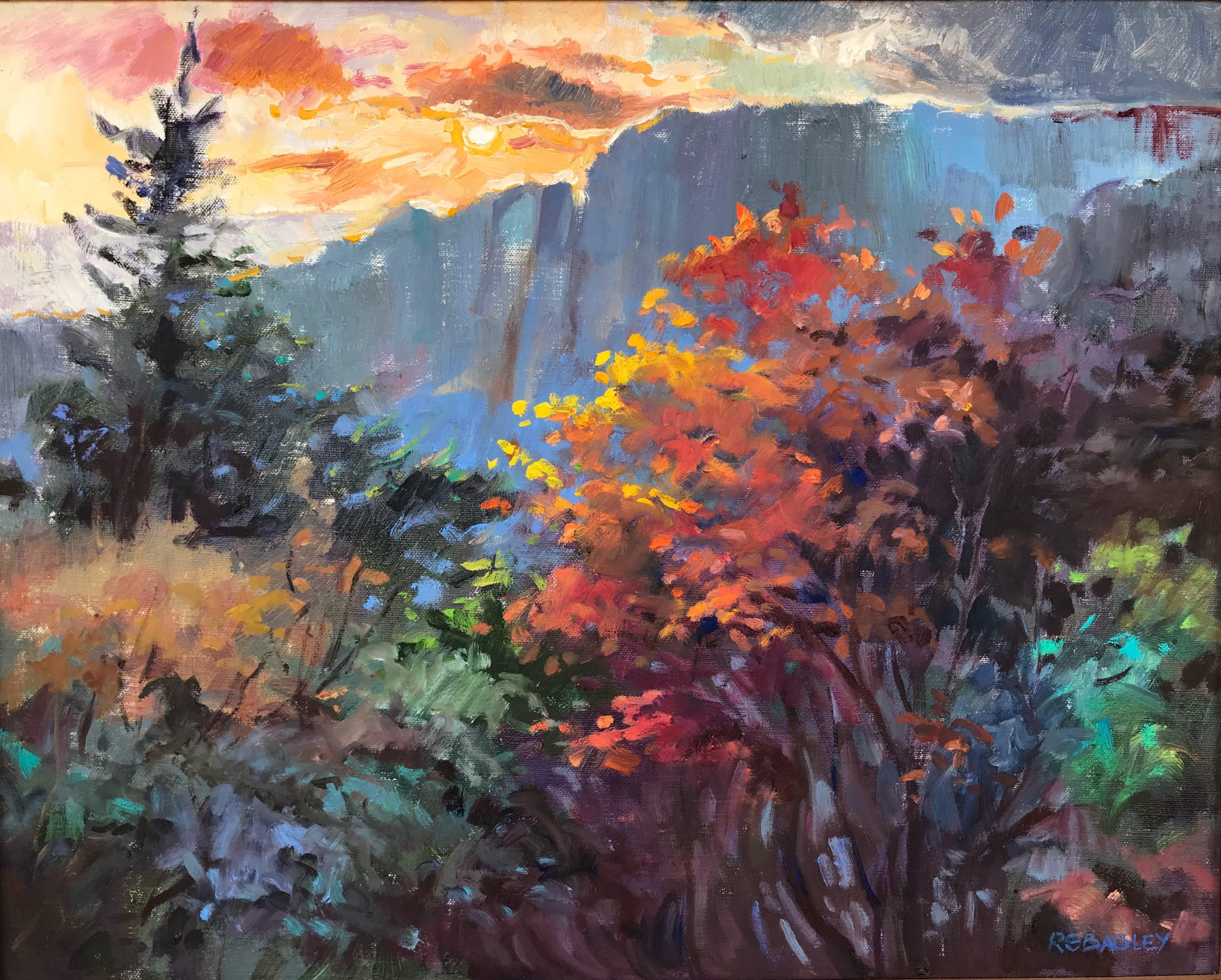 "Glory of the Palisades" by Ramona Bagley.
The painting is 16″x 20″ unframed, 21-1/2 "x 25-1/2" framed.
Auction information coming soon.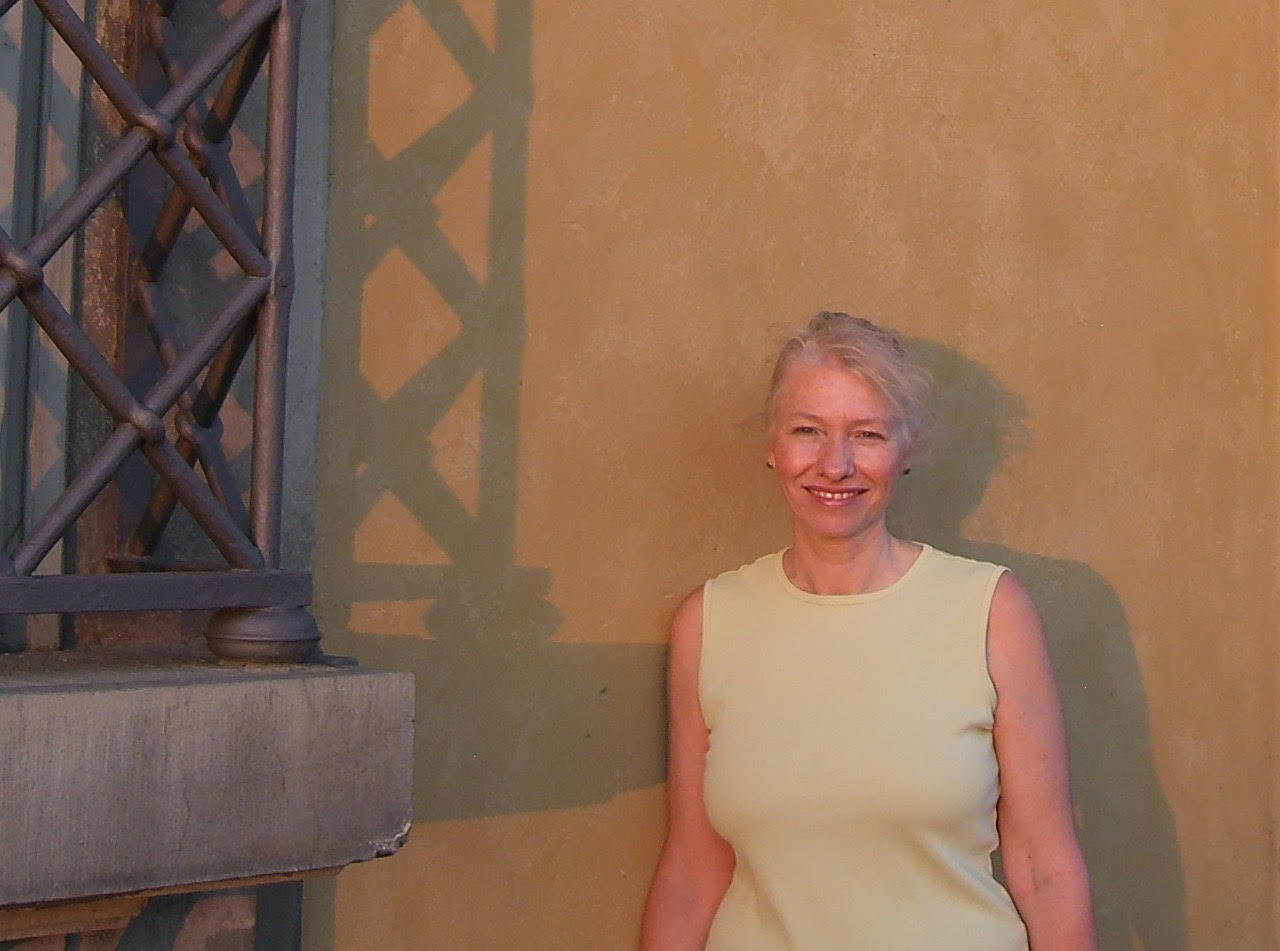 Art Auction
"Glory of the Palisades" has a new owner.  This oil on canvas by Ramona Bagley was auctioned during the 2022 season to benefit Music from Angel Fire.  The painting is 16 x 20 inches unframed and 21.5 x 25.5 inches framed.
Auction is over.  Winner will be announced on Saturday, September 3, at the Salon Concert that begins 2 p.m. at the Angel Fire Community Center.

More about Visual Art and Music from Angel Fire
Music from Angel Fire has garnered enthusiastic acclaim from music lovers and art aficionados for illustrating the website and print pieces for each season by top visual artists inspired by the beauty and culture of northern New Mexico.  The series, launched by the late Harold Geller when he was the first board president of Music from Angel Fire, has become an integral part of the annual festival.  Through this series, Geller left his imprint on the festival.  With his leadership, a visual artist was selected each year to create a featured work.  For the first time, works from visual artists were proposed by ArtUP Northern New Mexico, a not-for-profit membership organization committed to promoting the arts and the artists of northern New Mexico.
For the 2022 season of Music from Angel Fire, here is visual artist Ramona Bagley who has been painting in the Enchanted Circle area of New Mexico for more than 20 years.  Ramona's mother was a painter and brought her a great deal of early training. As a child, Ramona had tutors in areas of art from illustration to cartooning and from plein-air painting to life drawing. She spent years working in watercolor, pen and ink, oils, and pastels. Ramona grew up in New Hampshire and attended the Art Institute of Boston. She worked on the East Coast for 10 years as an illustrator in pen and ink and watercolor.
In addition to her work as a visual artist, Ramona studied Voice Performance at Westminster Choir College, performed in New York City's finest concert halls, and became part of various classical ensembles performing everything from Gregorian Chant to Gilbert and Sullivan throughout her 20's and 30's.
When she eventually settled in Angel Fire in her 40's, Ramona began studying plein air painting with some of the fine artists of Taos. As an artist, she was amazed and delighted at the varied New Mexico landscapes along with its wide vistas and ever-changing light. Here she moved into painting with oils because of the more rugged quality of the medium which lends itself to the landscape and to painting plein air. Her painterly style is strongly influenced by the impressionists, but she is also a colorist and shows an influence from her earlier watercolor training in keeping colors fresh and always letting in the play of light.
Ramona is an award-winning artist and has shown at fine art galleries in Taos, Angel Fire, Phoenix, and Boston, and has recently begun teaching the art of painting and composition online.   Her work is currently available exclusively through her website and The Water Works Gallery at 28 Fria Ct, Suite B, Angel Fire, NM 87710.
 ramonarts.com             (575)224-4224
Music from Angel Fire is honored to feature Ramona Bagley's work for the 38th Season in 2022 and to extend sincere thanks to ArtUP Northern New Mexico for their assistance, a treasured new partnership.
Other artists have been an integral part of the history of Music from Angel Fire
2022 Ramona Bagley, "Glory of the Palisades"
2021 Teruko Wilde, "Autumn in Northern New Mexico"
2019 Jennifer Cavan, "Enchanted Valley"
2018 Ed Sandoval, "Sunrise over Angel Fire"
2017 Loretta LaMothe, "Summer's Grande Finale"
2016 Inger Jirby, "Full Moon over Embudo"
2015 Jennifer Cavan, "The Angel's Fire"
2014  Lenny Foster, "Otiñol"
2013 Amado M. Peña, Jr,. "Gouache on Board"
2012 Sylvia Avenius Ford, "Summer in Guadalupita"
2011 Ed Sandoval, "Trail to Trampas"
2010 Jerry Jordan, "Even the Angels Stop to See"
2009 Jennifer Cavan, "Evening Colors"
2008 Walt Gonske, "Change of Season"
2007 Rick Howell, "High in the Sangre de Cristos"
2006 Alyce Frank, "Cumbres Pass"
2005 Don Brackett, "Springtime Comes To Moreno Valley"
2004 William Hook, "Autumn Prelude"
2003 Doug West, "Evening Sonata"
2002 Barbara Zaring, "Valley of the Utes"
2001 Teruko Wilde, "Monte Verde Lake"
2000 Sherrie McGraw, "Low Clouds in the Mountains, Taos Mesa"
1999 Huihan Liu, "Celebration"
1998 Ovannes Berberian, "Evening Mora Valley"
1997 Kevin Macpherson, "Blue and Gold"
1996 William Hook, "Autumn Sonata"
1995 Buffalo Kaplinski, "Strength"
1994 Teruko Wilde, "Southwest Series"
1993 Doug West, "Taos and the Source"
1992 J.K. Lamkin, "Shadow Dreams"
1991 Barbara Zaring, "Fall in the Rio Grande"
1990 Albert Handell, "Santa Fe Hills"
1989 James Harrill, "Midday Shadows, Taos Pueblo"
1988 Doug West, "Edge of Light"
1987 Doug West, "Seeds of Promise"
1986 Doug West, "Taos"
1985 Amado Peña, "Dos Flautas"
1984 Doug West, "Taos Silk"