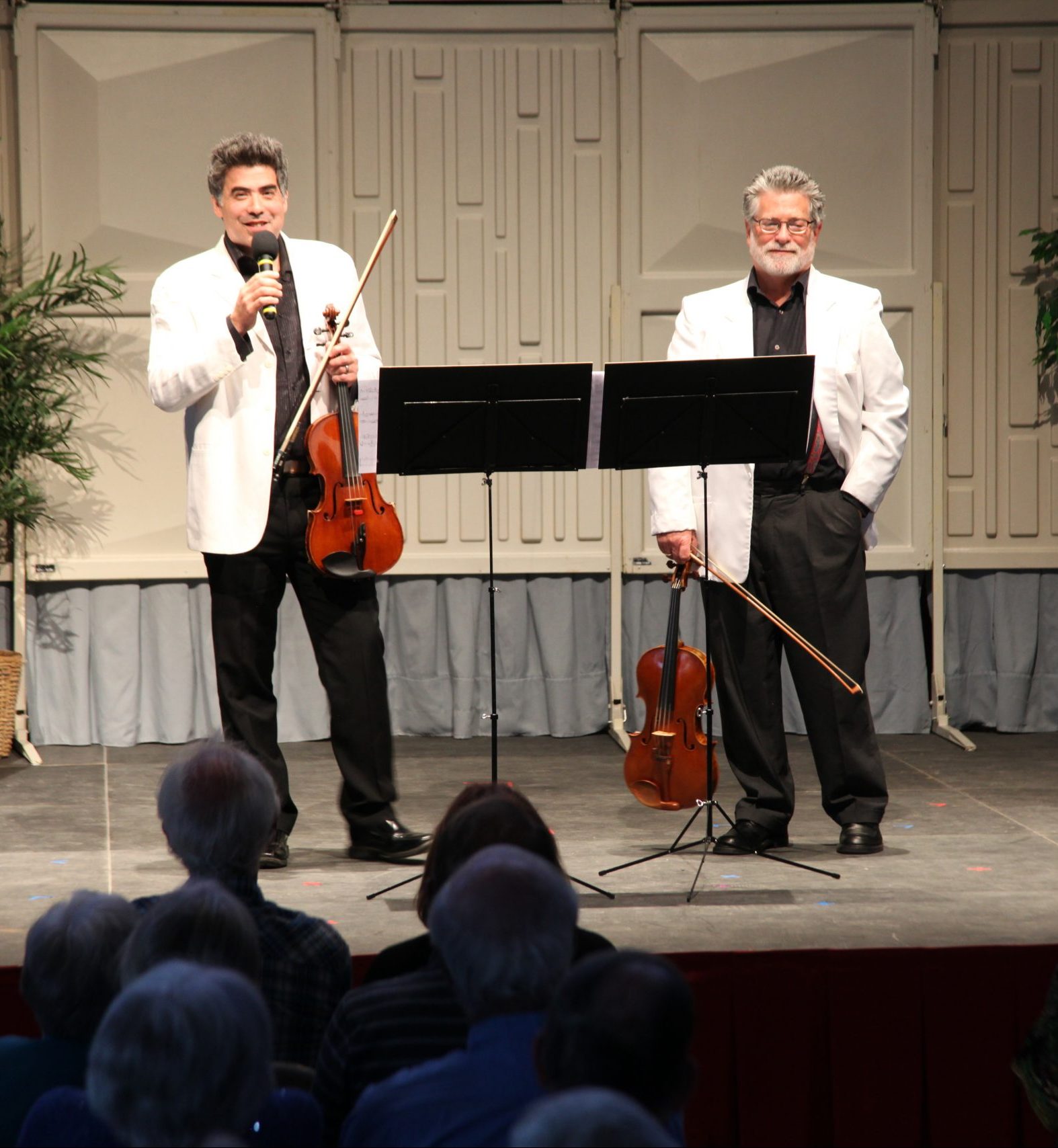 The Bruce and Hilde Howden American Commissioning Project
Through the generosity of Hilde Howden and the Bruce E. Howden American Composers Project, Music from Angel Fire has created an enviable commissioning history that rivals major international festivals. Each year, Music from Angel Fire invites an internationally renowned composer and a Young Artist Composer to each compose a work premiered at the festival. The Composer-in-Residence Program began in 1986, and the Young Artist Composer-in-Residence Program was initiated in 2005. As a result, Music from Angel Fire has commissioned and presented more than 45 world premieres in its 36-year history.
Music from Angel Fire has received national acclaim for its commissioning history from the Chamber Music Society of Lincoln Center. In February of 2016, OPUS ONE presented a special concert at Lincoln Center, performing four major works commissioned by Music from Angel Fire.
Andy Akiho, Composer-in-Residence for 2023
Andy Akiho is Music from Angel Fire's composer-in-residence for 2023, with a world premiere of a work by him on Wednesday, August 23, 2023, at 6 p.m. at the United Church of Angel Fire.  Tickets for the concert are available starting July 1.  Andy is featured not only as composer-in-residence, but he brings his steel pan and unusual chamber music orchestrations for your enjoyment.  You can get to know Andy at the free Meet the Composer, Friday, August 25, 1:30 p.m. at the United Church of Angel Fire.
Andy Akiho is a "trailblazing" (Los Angeles Times) Pulitzer Prize finalist and GRAMMY-nominated composer whose bold works unravel intricate and unexpected patterns while surpassing preconceived boundaries of classical music. Known as "an increasingly in-demand composer" (The New York Times), Andy has earned international acclaim for his large-scale works that emphasize the natural theatricality of live performance. He is the only composer to be nominated for a GRAMMY in the Best Contemporary Classical Composition category in both 2022 and 2023.
Highlights of the 2022-2023 season include the world-premiere of a new interdisciplinary work for Omaha Symphony honoring visual artist Jun Kaneko, the world-premiere of a new commission for Imani Winds, and a sold-out run of Andy's "Seven Pillars" at Théâtre du Châtelet, choreographed by Benjamin Millepied and performed by Sandbox Percussion and LA Dance Project. Equally at home writing chamber music and symphonies, Andy is the Oregon Symphony Orchestra's 2022-2023 composer-in-residence.
Andy has been recognized with many prestigious awards and organizations including the Rome Prize, American Academy of Arts and Letters, Lili Boulanger Memorial Prize, Harvard University Fromm Commission, Barlow Endowment, New Music USA, and Chamber Music America. His compositions have been featured by organizations such as Bang on a Can, American Composers Forum, The Intimacy of Creativity in Hong Kong, and the Heidelberg Festival.
An active steel pannist, Andy has performed his works with the LA Philharmonic's Green Umbrella Series, the Berlin Philharmonic's Scharoun Ensemble, the International Drum Festival in Taiwan, and more. Andy's recordings No One To Know One, The War Below, Seven Pillars, and Oculus feature brilliantly crafted compositions inspired by his primary instrument, the steel pan.
Music making is inextricably linked to shared human experience for Andy from inception to performance. Andy's compositional trajectory has been an untraditional one, he spent most of his 20s playing steel pan by ear in Trinidad and began composing at 28, and these social roots laid the foundation for his current practice. He can frequently be found composing into the wee hours of the morning at coffee shops, nightclubs, bars, and restaurants, taking breaks to get to know those around him. Similarly, Andy develops relationships with his collaborators as he writes for people, not instruments.
Music from Angel Fire is looking forward to the 40th Anniversary and Andy Akiho.
Composer-in-Residence History
2023 Andy Akiho
2022 Stephen Prutsman
2021 Paul Wiancko
2020 Festival canceled due to Covid-19 Pandemic
2019 Richard Danielpour
2018 Andrea Clearfield
2017 Kenji Bunch
2016 Gabriela Lena Frank
2015 David Ludwig
2014 Bright Sheng
2013 Chick Corea
2012 Stephen Stucky
2011 Roberto Sierra
2010 Lowell Lieberman
2009 Augusta Read Thomas
2008 Joan Tower
2007 Marc Neikrug
2006 Michael Daugherty
2005 George Tsontakis
2004 Kevin Puts
2003 Previous composers wrote short pieces for anniversary: Adolphe, Fine, Greatbatch, Deak, Kernis, Coleman, Hartke, Singleton, Crockett, Higdon, Larson, Lowry
2002 Douglas Lowry
2001 Libby Larson
2000 Jennifer Higdon
1999 Donald Crockett
1998 Stephen Hartke
1997 Jon Deak
1996 Alvin Singleton
1995 Dan Coleman
1994 Bruce Adolphe
1993 Aaron Jay Kernis
1992 Jon Deak
1991  Timothy Greatbatch
1989  Vivian Fine
1988  Bruce Adolphe
Young Composer-in-Residence
2022 Elise Arancio
2021  Not selected
2020  Canceled due to COVID-19
2019  Dai Wei
2018  Not selected
2017  Nick DiBerardino
2016  Gabriella Smith

2015  Alyssa Weinberg
2014  Andrew Hsu
2013  Thomas Oltarzenski
2012  Daniel Temkin
2011  Michael Djupstrom
2010  Daniel Shapiro
2009  Chris Rogerson
2008  Christopher Weiss
2007  Ke-Chia Chen
2006  Sheridan Seyfried
2005  James Ra